When I started running, I wore some old football shorts with pants underneath or even shorts-style swimming trunks. Either are fine when you're not running for more than an hour at a time. But as I discovered while training for my first marathon in 2013, the longer you run, the more important comfort becomes, because chafing is bad. And chafing in your 'special cargo' area is really bad.
'Special cargo' is a phrase I learnt from lululemon athletica's website, where they use it to describe what's being protected with certain pairs of shorts. Last year I was invited to a design meeting at lululemon's Richmond showroom with some other runners to discuss what we liked and didn't like about men's running kit. Unsurprisingly, chafing reared its ugly head and there were various horror stories - the phrase 'cheese grater' made an appearance. The key learnings regarding shorts were the requirement for comfort and pockets.
Fast forward five months and as if by magic the lululemon 'Repetition Short' is available. As part of their ongoing programme to engage with the local community, I was asked by the team at Richmond to test out these new shorts. With a 26-mile training run planned for the weekend, I decided to jump straight in at the deep end. Eyebrows were raised at lululemon towers but a 10k wasn't going to tell me anything - I needed to find out if they were good for the long haul.
So off I went to the North Downs Way for a run on the trails. The lining of the short is more like a built-in compression short and feels supportive and snug around the 'special cargo'. This means a reduced chance of chafing, and I'm pleased to report there was none at all, even after more than four hours of going up and down hills, and sliding about in the mud.
There are two 'regular' pockets which are unusual for a running short and normally I wouldn't keep anything in them as they're not secure. However, they were really useful as somewhere to put my gloves when I took them off - I've managed to lose a pair of gloves just before a race because I had nowhere to put them.
Even better are the two 'hidden' pockets. One has a flap to keep contents secure - I didn't use this one but could be ideal for keys or a credit card. The other one I used for my phone. Unsure of how sweaty this particularly part of the shorts would get, I also used my trusty aquapac. Nevertheless, it fitted neatly into the pocket and despite my concerns, didn't even notice it being there while I was running.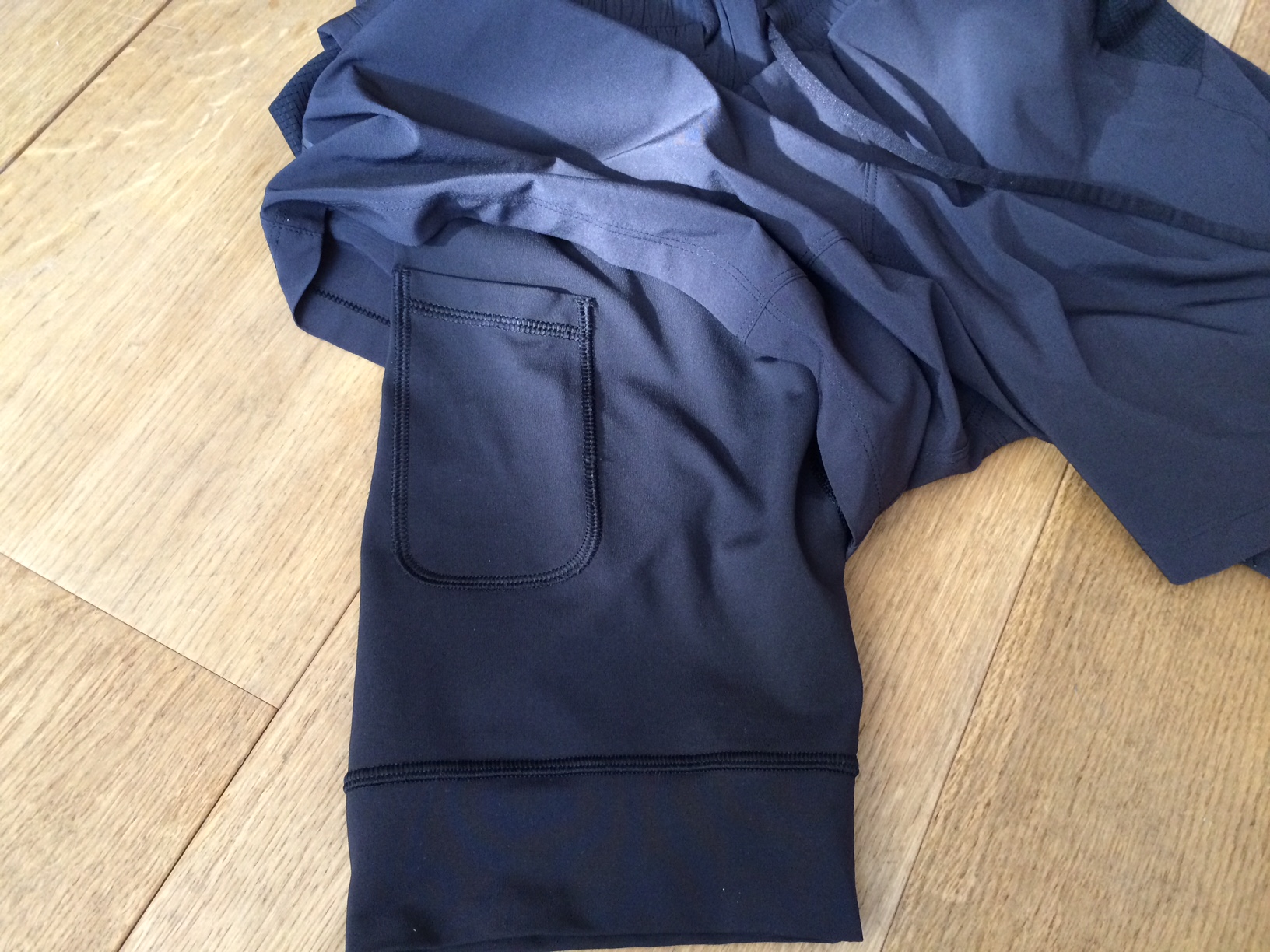 In fact, perhaps the best thing I can say about the shorts in summary is that I didn't think about them at all. Very comfortable, and my new go-to shorts for long runs. And possibly short ones too.
NB: lululemon athletica UK kindly gave me these shorts to test but didn't ask for a review. I just wanted to write one because they're so good.